Ice cream tastes best in Lyon… so T is having more, with five years since the last one! (Skalgubbar #219)
Went up the hill to Café Himmelreich with G and B. Sadly it was  closed, but we still got a fantastic view over the city covered in fog in the evening sun.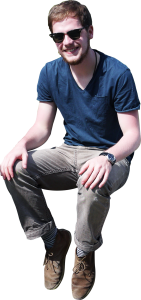 Our favorite one and only foreign exchange student N has just finished his last lunch at Chalmers Kårhus, as always with a smile on his face while hovering!